Excerpts from Glorification of Śrī Hari, Guru & Vaiṣṇavas on Vyāsa-pūjā Day
by Śrī Śrīmad Bhaktivedānta Vāmana Gosvāmī Mahārāja

7 January 2002
at Śrī Keśava Gosvāmī Gauḍīya Maṭha, Siliguḍi
(on the occasion of Śrī Vyāsa-pūjā)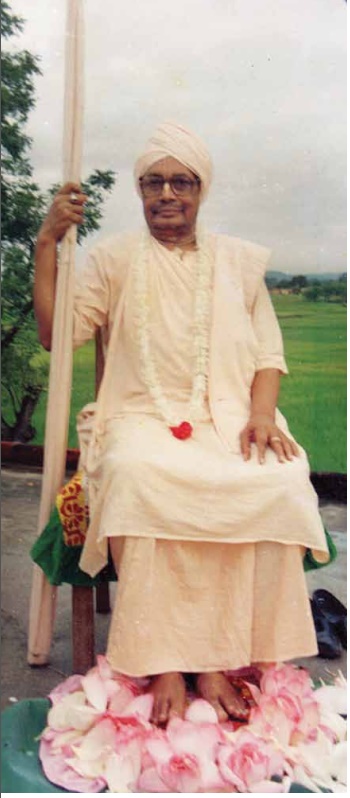 Śrī Bhagavān Comes as Vyāsa to Reveal Himself
Today is a special day. On the occasion of someone's [Since this lecture was given on his own appearance day, Śrīla Vāmana Gosvāmī Mahārāja uses the pronoun 'someone', in his humility.] appearance day, an arrangement is made for the special worship of śrī guru, Vaiṣṇavas and Bhagavān. Those in the sannyāsa order coming in the line of Śrī Vyāsa, perform the worship of previous gurus on their respective appearance days. The invocation and performance of vyāsa-pūjā on the guru's appearance day, includes the worship of Bhagavān Śrī Vyāsadeva and that of the whole Vaiyāsaki sampradāya (that sampradāya in which Śrīmad-Bhāgavatam is spoken by Śrī Śukadeva Gosvāmī, the son of Vyāsadeva). Without following Vyāsa, there is no real fruit of guru-pūjā. As His prakāśa-vigraha, Śrī Vyāsadeva is non-different from Bhagavān Himself. In order to reveal Himself, Bhagavān has manifested Himself in the form of transcendental sound as veda-śāstra. Furthermore, since the Vedas are incomprehensible by ordinary intelligence, there was a need to expand and explain them. Therefore, Bhagavān Himself, as Vyāsa, performed the act of expanding the Vedas. He Himself is tattva-vastu, the Absolute Reality, and unless He makes Himself known to others, no one can know Him in truth.
vedaiś ca sarvair aham eva vedyo
vedānta-kṛd veda vid eva cāham
– Bhagavad-gītā (15.15)
Śrī Kṛṣṇa has said: "I am indeed that vastu (entity) that is established by the Vedas, I alone know the import of the Vedas, and I alone have manifested Vedānta. Therefore, without the guidance of Vyāsa, there is no other bona fide or proper means to know Bhagavān."
Śrī gurudeva, as the representative of Śrī Vyāsadeva, reveals bhagavat-tattva. Through guru-pūjā, vyāsa-pūjā is indeed accomplished, and this is the speciality of the Vyāsānuga sampradāya. Śrī guru-tattva and śrī vyāsa-tattva are the same. For this reason, śrī vyāsa-pūjā means to offer pādya, foot-bathing water, to the lotus feet of śrī guru. The disciple who knows the inner heart's desire of śrī gurudeva understands that he wants him to engage in perfect bhajana. That distinguished service to Bhagavān is not merely external; it is the real offering of pādya.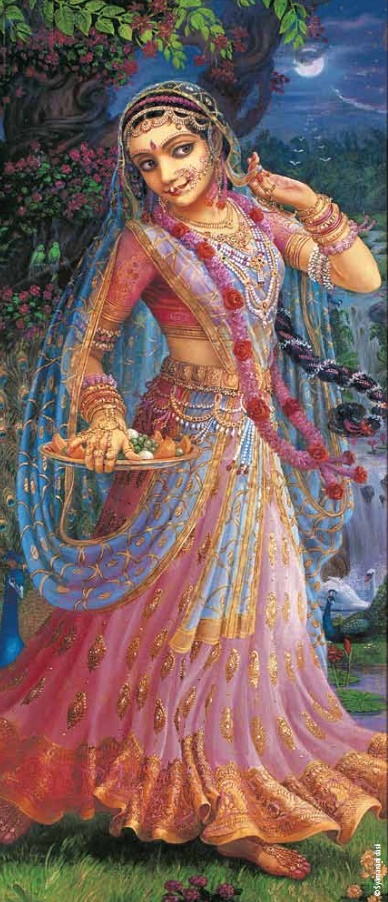 The Necessity of Accepting a Guru
Śāstra says:
tad-vijñānārthaṁ sa gurum evābhigacchet
samit-pāṇiḥ śrotriyaṁ brahma-niṣṭham
– Muṇḍaka Upaniṣad (1.2.12)
To realize the science of the Absolute Truth, Śrī Bhagavān, one must humbly approach, with firewood in hand, a spiritual master who is learned in the Vedas and firmly devoted to the Absolute Truth.
The word tad-vijñānārtham does not only mean tattva-jñāna (knowledge of the Absolute Truth), but rather tattva-jñāna endowed with realization. In other words, one has to attain the tattva-jñāna of prema-bhakti.
Śrī Vyāsadeva has said in the very beginning of his Vedānta-sūtra,
Meaning, I do not know the identity of brahma and I do not know my relationship with Him. I want to know these truths. If this knowledge were within me, I would not have made such inquiry. I therefore need a teacher who can bestow such knowledge." This sūtra gives instruction on the necessity of accepting a genuine guru who knows the identity of brahma.
Gurum eva abhigacchet. The words gurum eva declare that it is imperative to approach a guru. One cannot know that Supreme Absolute Being through any other source. Therefore, one has to do abhigamana to that guru. Abhigamana means to approach guru with service temperament and honest enquiry.
tad viddhi praṇipātena paripraśnena sevayā
upadekṣyanti te jñānaṁ jñāninas tattva-darśinaḥ
– Bhagavad-gītā (4.34)
Acquire this knowledge by offering prostrated obeisances to a guru who imparts transcendental knowledge, by asking relevant questions from him and by rendering service to him. The tattva-darśīs, who are expert in the imports of the scriptures, and the jñānīs who have realized the Absolute Reality, will enlighten you with that knowledge.
The explanation of abhigamana is found in this verse from the Gītā. Abhigamana means approaching guru with praṇipata (self-surrender), paripraśna (sincere and honest inquiry, devoid of a challenging mood), and sevā (a serving temperament). In the absence of these three, there will not be proper reciprocation with him.
dadāti pratigṛhṇāti guhyam ākhyāti pṛcchati
bhuṅkte bhojayate caiva ṣaḍ-vidhaṁ prīti-lakṣaṇam
–Upadeśāmṛta (Verse 4)
Offering pure devotees items in accordance with their requirements; accepting prasāda, the remnant items given by pure devotees; revealing to pure devotees one's confidential realizations concerning bhajana; inquiring from them about their confidential realizations; honouring the prasāda remnants given by devotees with great love; and affectionately feeding them prasāda – these are the six symptoms of loving association with devotees.
Śrī Guru is Witness to the Absolute Truth
A person devoid of complete love for that guru will not be able to understand the moods of his heart. Thus, without abhigamana, a person cannot obtain tattva-jñāna and will only waste time. Yet one must also consider the nature and speciality of the person he is thinking to approach. Śāstra says śrotriyaṁ brahma-niṣṭham. The guru must be brahma-niṣṭhā, steadfast in realization of transcendental Reality, and he must be in the path, or succession, of gurus who have heard the divine message from an authentic source (śrauta-panthā).
tasmād guruṁ prapadyeta jijñāsuḥ śreya uttamam
śābde pare ca niṣṇātaṁ brahmaṇy upaśamāśrayam
–Śrīmad-Bhāgavatam (11.3.21)
How can a person who is desirous of knowing what duty is and what it is not obtain the topmost benefit? In order to understand this, one must approach the lotus feet of a bona fide guru. One who is expert in understanding all the conclusions of the revealed scriptures such as the Vedas, who has direct experience and realization of Bhagavān, and who is not influenced by any kind of material agitation is known as a bona fide guru.
Those who want to know and understand the topmost, complete and eternal auspiciousness and how to attain it should surrender to a guru who is expert in the realization of śabda-brahma (the Vedas) and in realization of para-brahma (Bhagavān). Śabda-brahma means nāma-brahma – vācaka-brahma, the transcendental sound vibration of the names of Bhagavān, and para-brahma means nāmi-brahma – vācya-brahma, Bhagavān Himself. The bona fide guru is a realized soul. He is well-versed in both of these svarūpas of Bhagavān. He is not a professional priest, nor is he a platform speaker. He is tattva-darśi – he sees tattva-vastu and realizes it. Tattva-vastu means Bhagavān and His name, form, qualities, associates, pastimes and abode. These are all tattva-vastu, and śrī gurudeva is tattva-darśī.
Śrī Kṛṣṇa has described that only that gurudeva who is realized in the Absolute Truth, is in fact His very own nature (svarūpa):
ācāryaṁ māṁ vijāniyān nāvamanyeta karhicit
na martya-buddhyāsūyeta sarva-deva-mayo guru
– Śrīmad-Bhāgavatam (11.17.27)
One should know the ācārya to be Me and never disrespect him in any way. One should not envy him, thinking him an ordinary man, for he is the representative (sum total) of all the demigods.
Śrī Guru is Bhagavān's Direct Manifestation and His Devoted Servant
One should not think that śrī gurudeva is directly Kṛṣṇa Himself. Those who conclude this have been condemned by śāstra as wicked and possessed of a hellish mentality. Although Bhagavān and His associates are in truth non-different, it does not mean they are the same entity. Bhagavān's eternal associates render service to Him, and it is gurudeva who manifests that service. Therefore the quality of being guru (gurutva) is fundamental in an eternal associate.
yadyapi āmāra guru—caitanyera dāsa
tathāpi jāniye āmi tāṅhāra prakāśa
– Śrī Caitanya-caritāmṛta (Ādi-līlā 1.44)
Even though I am aware that my gurudeva is the devoted servant of Śrī Caitanya, I am also conscious that he is a complete manifestation (prakāśa) of the Supreme Lord (Śrī Caitanya).
Just as sunlight cannot be separated from the sun and is therefore non-different from the sun, similarly, gurudeva cannot be separated from Bhagavān. Furthermore, just as sunlight is subordinate to the sun, gurudeva as guru-tattva is subordinate to Bhagavān; he is Bhagavān's sevaka-tattva. For this reason, śāstra describes gurudeva as non-different from Kṛṣṇa.
sākṣād-dharitvena samasta-śāstrair
uktas tathā bhāvyata eva sadbhiḥ
kintu prabhor yaḥ priya eva tasya
vande guroḥ śrī caraṇāravindam
All scriptures proclaim śrī gurudeva to be sākṣāt-hari, non-different from the Lord, and this is acknowledged by all saintly persons. Yet this is because śrī gurudeva is also extremely dear to the Supreme Lord Śrī Hari, being His most confidential servitor (acintya-bhedābheda-prakāśa-vigraha, the inconceivable manifestation who is one with and different from the Lord). I adore the lotus feet of that śrī gurudeva, which are the abode of grace and auspiciousness.
Thus, it has been described everywhere that gurudeva is most dear to Bhagavān. It is for this reason that he is non-different from Bhagavān. Śrīla Sarasvatī Prabhupāda has therefore said that one aspect of Kṛṣṇa is viṣaya-jātīya (the object of love) and the other aspect is āśraya-jātīya (the abode of love). In these two wonderful aspects of revelry, variegatedness finds its completeness.
Śrī Kṛṣṇa is viṣaya-jātīya in full, and śrī gurupāda-padma is āśraya-jātīya in full. It is for this reason that gurudeva has been described as kṛṣṇa-svarūpa. He has not been described as Kṛṣṇa Himself. Why is this?
kṛṣṇa-bhakte kṛṣṇera guṇa sakali sañcāre
–Śrī Caitanya-caritāmṛta (Madhya-līlā 22.75)
All the transcendental qualities of Kṛṣṇa gradually develop in Kṛṣṇa's devotee.
Śrī Guru Endows the Living Being with Gurutva, the Greatness Found in Kṛṣṇa
In the association of the pure devotee, the knot consisting of all types of avidyā is removed from the jīva's heart, all doubt is cut asunder, and all karma is destroyed. In this way, all types of paltriness in the jīva are removed, and gurutva, the quality of greatness which is inherent within Kṛṣṇa, is transmitted into him. "Parama durmati chila, tā' re gorā uddhārila, tāṅ'rā haila patita-pāvana – when extremely wretched and sinful persons were delivered by Gaurāṅga Mahāprabhu, they, in turn, became the deliverers of the fallen" (Prārthanā, song 37 – "Gaurāṅga-niṣṭhā").
kibā vipra, kibā nyāsī, śūdra kene naya
jei kṛṣṇa-tattva-vettā, sei 'guru' haya
–Śrī Caitanya-caritāmṛta (Madhya-līlā 8.127)
Whether one is a brāhmaṇa, a sannyāsī, or a śūdra, if he is fully conversant with all the truths regarding the transcendental knowledge of Śrī Kṛṣṇa, he can become a guru.
Gurutva, the quality of greatness, is not ascertained by external mundane vision. One's gurutva manifests to the same degree that his eternal function (svarūpa-dharma) develops within him. It has therefore been said, "śūdra kene naya – whether one is a śūdra or not." But is a devotee of Bhagavān a śūdra? Never!
Investing his potency in those who are under His shelter, Bhagavān sends them as guru to this world for the welfare of the jīvas. Unless the potency of Bhagavān is transmitted to the jīva, the jīva does not attain the quality of guru. Lacking in this potency, the insignificant jīva thus falls into the waves of materialism. But this does not happen to a guru who is empowered by the potency of Kṛṣṇa. It is therefore said,
kabhu nā bādhibe tomāra viṣaya-taraṅga
Meaning"... the waves of materialism will not hinder you."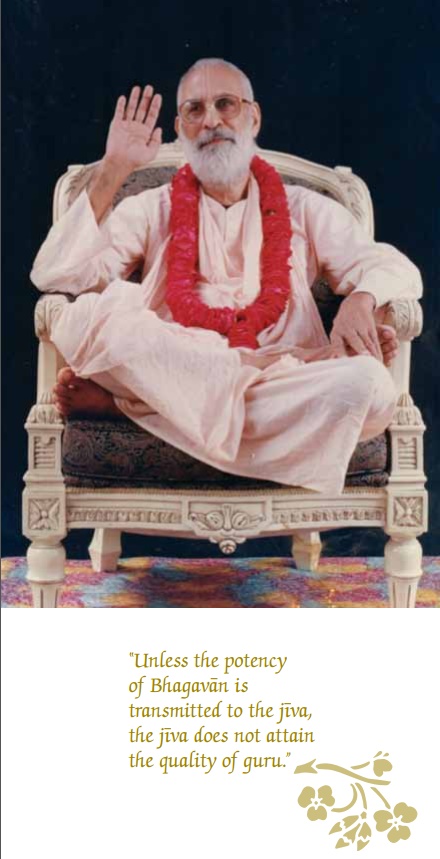 Real Guru Never Performs any Act of Violence
Elucidating on this statement by Mahāprabhu (kabhu nā bādhibe…), Śrīla Sarasvatī Prabhupāda has said, "Give up hiṁsā (malice, envy and violence) and be compassionate to the jīvas. Do not act as guru to commit violence. Do not act as guru to sink into materialism. But if you can become My sincere servant and attain My potency, you will have nothing to fear."
This means that the potency of Bhagavān is transmitted into Bhagavān's devotee when the devotee is free from deceit. Without obtaining that potency, one's compassion for the jīvas is actually jīva-hiṁsā, violence to the living entity.
What does jīva-hiṁsā mean? Śrīla Prabhupāda defines it as being narrow-minded or miserly in propagating śuddha-bhakti and giving shelter to Māyāvādīs, anyābhilāṣīs (those who act for personal, selfish motives) and karmīs, or speaking to please them." Jīva-hiṁsā actually means to give fuel to the jīva's desire for liberation and their hunger for sense enjoyment, to conceal the impartial truth of śāstra, and to support the whims of the mind. Karmīs, jñānīs and yogīs are selfish and not surrendered, and they follow the ascending process. Donning the dress of a guru, they commit great jīva-hiṁsā. It is never possible for the inherent function of the spirit soul to manifest through their endeavours in karma, jñāna or yoga. Such persons are non-Vaiṣṇavas.
One Cannot Perform Kṛṣṇa-bhajana Without Becoming Gurudevtātmā
Viṣaya-vigraha Bhagavān, the Supreme Lord who is the object of the devotee's prema, is the controller of all controllers, the omnipotent Lord of all lords (sarveśvareśvara). In the same way āśraya-vigraha śrī gurudeva, the abode of prema, is not an ordinary jīva, but the sum total of all the demigods (sarva-devamaya). He is īśvara in that he has the qualities of the Supreme Controller. One who does not adopt this understanding will consider gurudeva to be an ordinary human being. As a result, he will have to face great danger, since his attachment to worldliness, or mundane qualities, will never be removed.
For this reason, the phrase gurudevatātmā has been used (Śrīmad-Bhāgavatam 11.2.37). Only that person who knows his gurudeva to be devatā, his worshipful lord, and who regards him as ātmā, meaning priya, or dear like his own self, is gurudevatātmā. Unless one becomes gurudevatātmā, one cannot render intimate service to guru (viśrambheṇa guroḥ sevā); and unless one becomes gurudevatātmā one cannot perform kṛṣṇa-bhajana.
tāte kṛṣṇa bhaje, kare gurura sevana
māyā-jāla chuṭe, pāya kṛṣṇera caraṇa
–Śrī Caitanya-caritāmṛta (Madhya-līlā 22.25)
If the conditioned soul engages in the service of the Lord and simultaneously carries out the orders of his spiritual master and serves him, he can get out of the clutches of māyā and become eligible for shelter at Kṛṣṇa's lotus feet.
The relationship between kṛṣṇa-bhajana and guru-sevā is inseparable.
The Awakening Jīva Meets the Succession of Gurus
When the jīva becomes ready to renounce his absorption in māyā, the indwelling Lord (antaryāmī) awakens the jīva's sense of wisdom regarding kṛṣṇa-bhakti and externally manifests as an exalted saint. At that time, the successive appearance of the vartma-pradarśaka-guru (who first introduces one to the path of bhakti), the śravaṇa-guru (from whom one hears knowledge of the bhaktas, bhakti and bhagavat-tattva), the dīkṣā-guru (who confers spiritual initiation by giving sacred mantras), the bhajana-guru (who gives instruction on how to perform bhajana) and so on occurs in the life of that jīva. Śrīla Sarasvatī Prabhupāda said, "The abodes of love (āśraya-jātiya) – that is, our guru-varga – appear in various forms to bestow mercy upon me. All are the special manifestation of gurupāda-padma, he who bestows transcendental knowledge."
Often the vartma-pradarśaka-guru and the śravaṇa-guru are the same person. If the śikṣā-guru did not instruct us on how to take shelter of guru-pādapadma and how to behave towards him, we would not achieve any auspiciousness. He teaches the importance of the dīkṣā-guru and how to worship him. We must submissively obtain the mantra from the dīkṣā-guru, he who bestows sambandha-jñāna, and we receive instructions on the process of bhajana from the bhajana-śīksā-guru.
The dīkṣā-guru and śikṣā-guru are one; they are never different. Both are the manifestation of gurupāda-padma, he who bestows transcendental knowledge. If someone perceives a difference between them due to their mundane conception, he commits a great offence. Until the conception that gurudeva is a mortal being is dispelled, such thoughts cause disturbance. If one is not particularly vigilant in dealing with such thoughts, his pitiable condition will never be rectified. For this reason it has been said:
śrī-guru-caraṇa-padma kevala bhakati-sadma
vando mui sāvadhāna mate
– Śrī Prema-bhakti-candrikā
With great care I worship and serve śrī guru's lotus feet, which are a treasure house of unalloyed prema-bhakti for Śrī Kṛṣṇa.
My Gurupāda-padma is the Living Embodiment of Guru-sevā
On this special day (vyāsa-pūjā), I remember the supra-human (atimartya) character of my gurupāda-padma. His foremost characteristic (vaiśiṣṭya) is his unparalleled guru-niṣṭhā. He is the glowing example of gurudevtātmā, as he perceives his gurudeva as devatā, his worshipful lord, and regards him as more dear than his very own ātmā, or soul. My gurupāda-padma yearns to perform guru-sevā at every moment, just like a highly chaste wife always meditates on her service to her husband. In every respect he offers his own soul, mind, body and everything at the lotus feet of Śrīla Sarasvatī Prabhupāda. Śrī Kureśa, the disciple of Śrī Rāmānuja, set a stellar example of guru-sevā by offering his very life in service to his gurudeva. My śrī gurupāda-padma similarly offered his life to his guru, protecting Śrīla Prabhupāda from the challenging uproars of people with a demoniac mentality. [Once, to protect his gurudeva, Śrīla Bhaktisiddhānta Sarasvatī Prabhupāda, from a violent mob, Śrīla Bhakti Prajñāna Keśava Gosvāmī Mahārāja exchanged clothes with him. For a full account of this pastime, refer to Ācārya Kesarī Śrī Śrīmad Bhakti Prajñāna Keśava Gosvāmī: His Life and Teachings by Śrī Śrīmad Bhaktivedānta Nārāyaṇa Gosvāmī Mahārāja.]
Prabhupāda manifested this pastime to reveal the incomparable guru-niṣṭhā in the heart of Gurupāda-padma. If we compare the guru-niṣṭhā of some of the disciples bearing the appellation mahopadeśaka (great scholarly instructor) and mahā-mahopadeśaka (most exalted scholarly instructor) [Titles given by Śrīla Bhaktisiddhānta Sarasvatī Prabhupāda to a number of his followers] with the guru-niṣṭhā of one who is a mere upadeśaka paṇḍita [Title attributed to Śrī Śrīmad Bhakti Prajñāna Keśava Gosvāmī Mahārāja] (instructing scholar) but who is quietly engaged in performing deep and intimate service, it is like holding a glow-worm to the sun. By this pastime, Prabhupāda destroyed their boastful pride.
Gurupāda-padma had so much guru-niṣṭhā in the tattva-siddhānta of Prabhupāda that it astounded people. When there was an attempt to challenge the vicāra-dhārā (current of conception) of Śrīla Prabhupāda, Gurupāda-padma roared like a lion and powerfully refuted them. "I do not know the previous gosvāmīs, but I accept the vicāra-dhārā of Śrīla Prabhupāda as the unmistakable truth, and I shall try to know and understand the previous gosvāmīs in light of that. 'Ācāryera yei mata, sei mata sāra āra yata mata yānka chārakhāra – The opinion of the ācārya is the sum and substance. Let all other opinions be destroyed.' This is my conclusion." Upon hearing this, all were amazed and bowed their heads. This incident is most instructive.
Often, the words guru-niṣṭhā and guru-bhakti are not used in their proper context. A person who has niṣṭhā in one who is guru in name only inevitably becomes degraded. Guru means 'he who is vāstava-vastu, non-different from Reality, and he who is kṛṣṇa-vastu, non-different from Kṛṣṇa'. The so-called gurus in various apa-sampradāyas are not kṛṣṇa-svarūpa, the very nature of Kṛṣṇa. When a jīva attributes niṣṭhā or bhakti to them it is simply the product of his ignorance. Our attempts to place our faith in such persons can never be called ādau guru-niṣṭhā (the beginning of guru-niṣṭhā) or guru-bhakti.
Gurupāda-padma's Unprecedented Guru-niṣṭhā
The guru-niṣṭhā of Gurupāda-padma for Prabhupāda identifies his internal confidential relationship with him and his deep relationship with vāstava-vastu. Gurupāda-padma understood that the conception (vicāra) of the previous gosvāmīs was faultless, but jīvas gripped by ignorance are likely to misunderstand these conclusions. If, however, one adopts the ideal, or the line of thought of Prabhupāda, there is not even the slightest possibility of coming to an erroneous conclusion.
Whenever one who had had any connection with Prabhupāda came to Gurupāda-padma, be he a temple devotee, a renunciant, a householder or an ordinary person, Gurupāda-padma would become overwhelmed with bliss, thereby open-heartedly manifesting his deep intimacy with Prabhupāda. "Guru-sevaka haya mānya āpanāra – the servant of guru is honourable for us."
Gurupāda-padma would feel grateful and indebted to anyone who had served Prabhupāda in any way and thus would develop a relationship with that person. And since Prabhupāda was the sole object of his heart's affection, he would even offer that person financial assistance if needed. He was naturally bound in affection with those connected to Prabhupāda. On the other hand, he was as hard as a thunderbolt with those who, on the pretext of performing sevā for Prabhupāda, acted against him. All this is natural when there is a true relationship.
Gurudeva is the sole custodian of all service to Śrī Śrī Rādhā-Govinda. Any type of service to Them is in fact service to gurupāda-padma. Gurudeva is so adjusted with the pleasure of Kṛṣṇa that his only bliss lies in giving Him pleasure – he has no other source of happiness. Therefore, in rendering service to Kṛṣṇa for His pleasure, one indeed performs service to śrī gurudeva. In this way, everyone is in fact the servant of gurudeva. Since Prabhupāda is the only wealth of his heart, Gurupāda-padma would feel indebted to anyone who had ever served him, even if for but a moment.
This unprecedented guru-niṣṭhā of Gurupāda-padma is his primary quality. His countless other qualities, specialties and characteristics are all subordinate to this main quality. For want of time, it is impossible to appreciate or discuss all these divine characteristics. Vyāsa-pūjā means to take shelter at the lotus feet of guru and offer oneself at those lotus feet. I have tried to accomplish this to the best of my ability. My humble prayer is that out of his causeless mercy, Gurupāda-padma be pleased with me. I also beseech all of you to bestow your blessings upon me so that Gurupāda-padma will always be pleased with me.
vāñchā-kalpatarubyaś ca kṛpā-sindhubhya eva ca
patitānāṁ pāvanebhyo vaiṣṇavebhyo namo namaḥ
I offer praṇāmas unto the Vaiṣṇavas who are just like desire trees, who are an ocean of mercy, and who deliver the fallen, conditioned souls.
Translated from Śrī Gauḍīya Patrikā Year 54, Issues 1–3
(First Published in Rays of The Harmonist Issues 10, 11 and 12)